The yakṣī or female attendant deity of the 23rd Jina, Pārśvanātha or Lord Pārśva, is Padmāvatī. As a śāsana-devatā – 'deity of the teaching' – she is believed to help protect and spread the message of her Jina. Padmāvatī is one of the most important Jain goddesses among both Digambaras and Śvetāmbaras and is worshipped all over India. She is the focus of individual worship partly because of her associations with wealth.
As a goddess, Padmāvatī is a soul subject to the cycle of birth and can intervene in human affairs, unlike Jinas, who are liberated, perfect souls, completely detached from everyday human experience. Lay Jains worship gods partly to request help with worldly matters, ranging from issues of health and fertility, and passing examinations to business success. By the tenth century several of the śāsana-devatās had developed into independent gods at the centre of their own cults. This may be because of their connections with the major Jinas, links with a prominent pilgrimage centre or various stories of their powers.
Padmāvatī is assigned different attributes and divine vehicles by the two main sects of Jainism. However, among both she is frequently linked to the snake, the emblem of her Jina, Pārśva. Padmāvatī is particularly significant among Jains in Karnataka, especially the Digambara centres of Hombuja or Humcha and Shravana Belgola.
Roles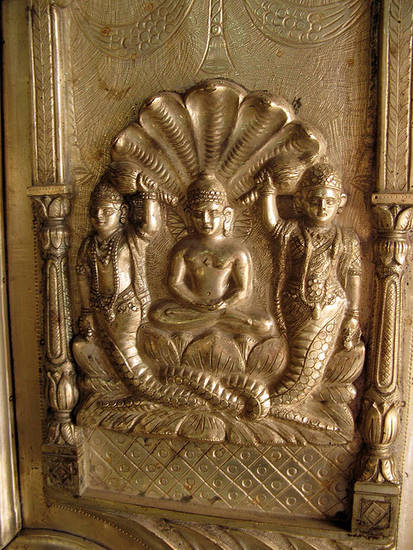 Pārśva attended by yakṣa and yakṣī
Image by Cactusbones – Sue Ann Harkey © CC Attribution-NonCommercial-ShareAlike 2.0
Padmāvatī is the yakṣī of the Jina Pārśvanātha or Lord Pārśva. She is linked to wealth and snakes, and can cure snakebites, which happen quite frequently in India. Although Padmāvatī's origins are unclear, she was probably originally a local clan deity.
Padmāvatī's male counterpart, the yakṣa, is known as Dharaṇendra to Śvetāmbaras and Pārśva or Mātanga to Digambaras. With a snake as his emblem, the 23rd Jina is closely associated with snakes and is usually depicted with a hood of snake-heads. The snakes refer to Pārśva's relationship with his yakṣa, whom Śvetāmbara Jains believe is the reincarnation of the snake Dharaṇendra. Before he became a monk, Prince Pārśva saved the snake from death and, later, Dharaṇendra sheltered the meditating ascetic from torrential rainfall. However, whereas the yakṣa's association with the Jina is well rooted in tradition, this is not the case with Padmāvatī.
Instead, Padmāvatī's identity as Pārśva's yakṣī is the result of various interactions and influences. It is believed that her connection with the 23rd Jina is rather late, as it is not seen in art before the tenth century. She may have replaced the earlier snake-goddess Vairoṭyā, who is the 13th of the 16 vidyā-devīs. But this is unclear.
Padmāvatī has connections with snakes, being credited with the ability to cure snakebites, which may be one of the reasons she became associated with Pārśva. She is also a goddess of wealth, which is another connection with this Jina.
She is likely to have been originally a clan deity – kula-devī – who was integrated into the Jain system of values. Inscriptions from Karnatak show that members of local ruling families in the medieval period often stated that they were devotees of Padmāvatī (Cort 1987: 243).
Appearance
Both yakṣas and yakṣīs are considered part of the entourage of the Jina image, technically known as parikara. Like all of the attendant deities, Padmāvatī has certain features that help to identify her and indicate her powers. These are described in, for example, texts on the iconography of the Jina, which outline the appearance of the Jina's attendants.
Being presented as a deity implies that Padmāvatī has special characteristics linked to the depiction of gods in art. This means she:
may have more than two arms or hands
has a

vehicle

–

vāhana

demonstrates attributes by holding various objects
may exhibit hand-gestures that symbolise a concept or attitude – mudrās.
However, it is quite common to see goddesses such as Padmāvatī, who have also developed into independent deities, as large images with a miniature Jina depicted above their heads.
Padmāvatī's divine vehicle varies according to the two main Jain sects. The Śvetāmbaras consider her vehicle to be either the snake or cockerel and depict her with four hands, holding a lotus, noose, fruit and goad. Here is how the 12th-century author Hemacandra describes her:
The goddess Padmāvatī, with a kurkuṭa-serpent for a vehicle, gold colored, carrying a lotus and a noose in her right hands, a fruit and a goad in her left hands, became the second messenger-deity of Lord Pārśva.
Triṣaṣṭiśalākāpuruṣacarita IX.3. 363–365
Johnson's translation, volume 5, page 403
Digambara images show various attributes depending on the number of hands. For instance, a four-armed Padmāvatī from Deogarh in Uttar Pradesh makes the gesture of giving a boon – varada-mudrā – and holds a noose, lotus and shield (Tiwari and Sinha 2011/112). Additional attributes would be a lotus, jug, goad, manuscript, staff, fruit, bow and so on. There is no full standardisation in this matter.
An image of Padmāvatī is a common sight in niches located in the entrance hall of a large number of temples. She is often seen clothed in colourful silks, mainly red or golden. Silk is a precious, costly material and red silk, often with golden threads, is traditional bridal attire at Indian weddings. These garments underline her connection with wealth.
Stories
There are numerous instances in stories where Padmāvatī provides help or rescue for people in need. In these tales she aids ordinary people as well as religious or political leaders, especially among Digambaras.
Dated 1129 CE, the Shravana Belgola inscription number 77 reports that Padmāvatī helped the Jain teacher Pātrakesari defeat his opponents (Cort 1987: 245).
In a collection of stories from the 13th century it is narrated how a king wants to protect his city from the approaching Muslim army. He asks the help of a Digambara monk who he knew had obtained a boon from Padmāvatī. Instructed by the monk, the king worships the goddess during the night:
The Digambara that very night began a sacrifice before Padmāvatī in the presence of the king. Then Padmāvatī, brought there by his perfect power of attracting spirits, appeared within the garland of flame in the sacrificial pit, and said that she had forbidden the approach of the [Muslims].
Merutunga, Prabandha-cintāmaṇi
Tawney 1982 reprint, page 185
The outcome in this tale is unsuccessful because the deity the monk worshipped was not actually Padmāvatī but a foreign deity in disguise.
Another story tells how Padmāvatī played a major role in the foundation of the Śāntara dynasty of Karnatak (Cort 1987: 245). First she assists the founder of the dynasty, Jinadatta, to triumph over his threatening father. The goddess helps Jinadatta escape his father and then, when he is pursued, she creates the illusion that he leads a greater army than that of his father. Jinadatta's father and his army turn back and Jinadatta flees the kingdom. Next Padmāvatī 'told the penniless Jinadatta to touch an iron bar to the vulva of her image, whereupon the bar turned into the gold he needed to found a city'. But later on she disappears in anger because she finds out that Jinadatta has given her a fake pearl. Of the two pearls Jinadatta discovers, he offers the goddess the fake and presents the real one to his wife.
These two stories demonstrate how unpredictable the goddess can be. Such accounts emphasise the nature of deities as beings caught in the world of rebirths and prone to passions – kaṣāyas – or desires. As Zydenbos remarks (1994: 143), with Padmāvatī 'there is always a mystery that is never completely solved and gives a twist to the course of the story'.
In other circumstances, Padmāvatī is said to have appeared to the 12th-century Digambara monk Śrīdhara. She approved his proposal of establishing an image of a Jina, despite the opposition of his disciple (Guérinot 1926: 54–55). This story occurs in the context of the birth of the Śvetāmbara monastic lineage known as the Pūrṇimā-gaccha.
Temples
Although Padmāvatī is popular throughout India, her worship is especially strong in southern India. There are scores of temples dedicated to her in southern India, particularly in Karnatak. Indeed, Padmāvatī is so popular in Karnatak that she is associated with other Jinas as well as Pārśvanātha or Lord Pārśva.
Among Digambaras, Padmāvatī is associated in particular with Hombuja or Humcha in the Shimoga district of Karnatak and with Shravana Belgola in Karnatak. The growth of these centres of pilgrimage is entwined with Padmāvatī's rise as an individual figure of worship.
Hombuja
Padmāvatī's link with Hombuja – also known as Humcha – dates back to an old legend told in the Padmāvatī-māhātmya by Padmanābha, in Kannara (Zydenbos 1994: 138). It might have been composed in the 17th century in this form but may well be older than that.
About 1300 years ago King Jinadatta reaches Humcha after fleeing from north India. As his guru has advised, the king carries a statue of Padmāvatī to protect him. The goddess herself appears to him at Hombuja and says that she will not travel any further. Jinadatta becomes king of the local tribal people, clears the forest and builds his new capital city. Padmāvatī becomes the presiding deity of the place and the city grows wealthy and powerful, as any bar of iron she touches turns to gold (for example, see Zydenbos 1994: 138; Titze 1998: 39–41; Cort 2010: 347). When Jinadatta offers to build her a temple, she agrees only after he promises to build a temple for the Jina whom she attends, namely Pārśva. Thus she demonstrates her respect for the Jina (Zydenbos 1994: 142).
Hombuja became a major pilgrimage place, especially for Digambara Jains. It houses a temple to Pārśva and one to Padmāvatī as well as temples dedicated to other Jinas. Bhaṭṭāraka Devendrakirtiji managed the site until his death in 2010. In November 2011 a new young bhaṭṭāraka, Dharmakirti, took charge.
Shravana Belgola
Padmāvatī is also a focus of devotion in Shravana Belgola (Cort 2010: 349), along with the goddess Ambikā or Kūṣmāṇḍinī, who is also a yakṣī.
Particularly noticeable is the image of Padmāvatī in the Kattale Basadi on Candra-giri, the small hill. This temple has come to be known as 'Padmāvatī Basadi' on account of her importance.
Other places
This south Indian emphasis does not mean that shrines or temples to Padmāvatī are not found anywhere else. They are increasingly built everywhere in India and beyond.
One contemporary example is the Padmāvatī shrine in the larger Śvetāmbara complex of the Vijayavallabha Smārak temple in Karnal, about 20 kilometres from Delhi. Sādhvī Mr̥gāvatījī had the idea for the building project, which gained the blessing of the Tapā-gaccha leader Vijayendradinna-sūri. The temple housing the cult image was inaugurated in May 1984.
The motivation behind the temple's construction is to discourage lay Jains from going to fakirs and non-Jain gods and goddesses in the hope of fulfilling their wishes. Instead, it is said that Padmāvatī can guarantee all types of success and remove all kinds of obstacles for devotees following the right path. This is because she has marvellous powers and is the attendant of Pārśvanātha or Lord Pārśva (Jain 1984: 5).
Worship
Paying due homage to Padmāvatī is usually performed using the standard rituals of Jain worship. However, the story of the Digambara monk who worshipped Padmāvatī with the aim of preventing Muslims entering the king's capital shows how ordinary Jain worship may be supplemented or replaced by other practices. These may be quite standard Jain practices, such as meditation, or less orthodox rites, such as making sacrifices to fire.
Even so it is important to emphasise that physical and moral purity are crucial to guarantee the success of the rituals. Moral purity implies following proper Jain conduct.
Tantric rituals
Padmāvatī is often worshipped the Tantric way. Jain Tantric worship aims to control other people or counter evil influences and involves performing rituals to placate the aggressive side of the deity's nature, encouraging the divinity to behave benevolently. If not worshipped correctly, the vengeful deity may cause harm.
The main source to this effect is a kalpa text, which sets out rituals and yantras for efficient, successful worship. The Digambara monk Malliṣeṇa wrote the Bhairava-Padmāvatī-kalpa – Manual of Rituals to the Fierce Padmāvatī – in 1057 CE in Karnatak. This work in Sanskrit verse has a commentary by a writer called Bandhuṣeṇa, about whom hardly anything is known (Jhavery 1944; Nawab 1937/1996).
This kalpa is divided into ten chapters (see Jhavery 1944: 295–299 for a summary).
Chapters of the Bhairava-Padmāvatī-kalpa

Chapter number

Number of verses

Contents

1

11

Moral qualities required from the practitioner, who is called:

'the one who wants to reach success' – sādhaka
'the one who is versed in

mantras

' – mantrī

2

21

Rites for the protection of the practitioner and:

his purification – ātma-

śuddhi

purification of the five elements of the body – bhūta-śuddhi
placing the tips of the fingers and palm of the right hand on various parts of the body while reciting mantras – nyāsa
meditation
the method of working out whether a particular

mantra

is favourable to the practitioner

3

40

Method for achieving the 'six acts', here listed as:

pacification –

śānti

causing enmity –

dveṣa

subjugation and gaining control over another person – vaśīkr̥ta
stopping control of another person –

bandha

attracting women – strīṛākṛṣṭi
halting other people's actions – stambhana.

The mode of worship of the deity with the relevant yantra is described.

4

21

Description of 12 yantras used to meet various aims

5

22

Yantras for achieving immobilisation – stambhana – which results in 'paralysing persons and their activities and passing successfully through various ordeals' (Jhavery 1944: 297)

6

19

Yantras and mantras for fascinating women

7

41

Yantras and mantras used to control others and make them do as the practitioner wishes

8

33

Mantras for divination using various objects, such as gazing into a mirror, lamp-flame, sword, water or a thumb to which soot and oil are applied

9

42

Medicinal herbs and powders to control women or other people and make them do what the practitioner wishes

19

57

Science for controlling and catching snakes or treating people who have been bitten – garuḍa-vidyā or garuḍa-tantra
The number of hymns or kalpas dedicated to this goddess is almost infinite. A good collection of Sanskrit texts is found in the appendices to Nawab 1937/1996. Analysis on pages 307 to 316 in Jhavery 1944 gives insight into the different modes of Padmāvatī's worship.
There are many more such texts in Hindi, Gujarati, Tamil and Kannara. They are available in all forms, for example in low-cost booklets found in local shops and temples (see Jain 1984 for instance) in India.
+

aAbhavya
aAbhinandana
aAbhiṣeka
aĀcāra
aĀcārāṅga-sūtra
aĀcārya
aAchalbhrata
aAḍhāī-dvīpa
aAdharma
aAdho-loka
aAdhyayana
aAdvaita Vedānta
aĀgama
aAghātīya
aAghātīya-karman
aAgnibhuti
aAgra
aĀhāra
aAhiṃsā
aAhimsa Day
aAjita
aAjīva
aAkampit
aĀkāśa
aAkbar the Great
aAkṣaya-tṛtīyā
aAlauddin Khalji
aAlbert Einstein
aAllah
aAlms
aĀlocanā
aAloka-ākāśa
aAmāri
aAmbikā or Kūṣmāṇḍinī
aAnagāra
aAnanta
aAnarthadaṇḍa
aAnaśana
aAnekānta-vāda
aAṅga
aAniconism
aAnojjā
aAntarāla
aAntarāya-karma
aAṇu
aAṇu-vrata
aAnukampā
aAnuprekṣā
aAnusvāra
aApabhraṃśa
aAparigraha
aAra
aĀrambha
aĀrambhaja
aĀratī
aArdhamāgadhī Prākrit
aArhaṃ
aArhat
aArśana-āvaraṇīya-karma
aĀrta-dhyāna
aĀryikā
aĀryikā Jñānamati
aĀśātanā
aĀścarya
aAscetic
aAsceticism
aAshram
aAspiration
aĀsrava
aAṣṭa-maṅgala
aAṣṭāpada
aAstikāya
aAstrolabe
aAsura
aAtheism
aAticāra
aAtiśayakṣetra
aAtithisaṃvibhāgavrata
aĀtma-vāda
aĀtman
aAuṃ
aAurangzeb
aAuspicious
aAusterity
aAvadhāna
aAvadhi-jñāna
aĀvaraṇī-yakarman
aAvasarpiṇī
aAvatāra
aAvidyā
aAxiom
aĀyāga-paṭa
aĀyambil
aĀyu-karma
aĀyurveda
bBabur
bBāhubali
bBaladeva
bBālāvabodha
bBandha
bBasadi
bBazaar
bBhadrankarvijay
bBhagavant
bBhaktāmara-stotra
bBhakti
bBhale
bBharata
bBhāṣā
bBhāṣya
bBhaṭṭāraka
bBhāva
bBhāva-pūjā
bBhāvanā
bBhavana-vāsin
bBhavya
bBhavyatva
bBhaya
bBhoga-bhūmi
bBhogopabhoga
bBodhi
bBollywood
bBrahmā
bBrahma-deva
bBrahmacārī
bBrāhmaṇa
bBraj Bhāṣā
bBright fortnight
bBritish Raj
bBuddha
bBuddhi-sagar
bBuddhism
bBuddhist
cCaitya
cCaityavāsin
cCakravartin
cCakreśvarī
cCāmara
cCandanā
cCandragupta
cCandraprabha
cCanon
cCāritra
cCāritramohanīya-karman
cCarũrī
cCaste
cCaturvidha-saṅgha
cCaturviṃśati-stava
cCāturyāma
cCE
cCelibacy
cCha
cChadmastha
cChastity
cCheda-sūtra
cChristian
cChristianity
cClergy
cCloning
cColophon
cCommentary
cConch
cConfession
cCongregation
cConsecration
cCosmology
cCremation
cCrore
cCult
cCūrṇi
dDādā-guru
dDalit
dDāna
dDaṇḍa
dDark fortnight
dDarśana
dDarśanamohanī-yakarman
dDaśa-lakṣaṇa-parvan
dDeity
dDelhi Sultanate
dDerāsar
dDeśāvakāśika-vrata
dDetachment
dDevanāgarī
dDevānandā
dDevarddhi-gani
dDevotee
dDhamal
dDhanuṣ
dDhāra
dDharma
dDharma-dhyāna
dDharma-sāgara
dDharmastikaya
dDhātakīkhaṇḍa
dDholak
dDhyāna
dDiaspora
dDig-vrata
dDigambara
dDīkṣā
dDisciple
dDīvālī
dDivya-dhvani
dDNA
dDoctrine
dDogma
dDonor
dDoṣa
dDravya
dDravya-pūjā
dDrone
dDuṣamā
dDuṣamā-duṣamā
dDuṣamā-suṣamā
dDveṣa
dDvīpa
eEast India Company
eEightfold Path
eEkānta-vāda
eEkendriya
eElder
eElders
eEschatology
eEtc up to
fFarmān
fFast
fFatehpur Sikri
fFestival
fFestschrift
fFiruz Shah
fFly-Whisks
fFolio
fFour Noble Truths
gGaccha
gGaṇa
gGaṇadhara
gGanadharavada
gGaṇeśa
gGaṇin
gGarba
gGarbha
gGarbha-gṛha
gGaruḍa
gGati
gGene
gGenomics
gGhātī-yakarman
gGhātīya
gGhaznavid
gGhiyasuddin Tughlaq
gGhurid
gGloss
gGotra-karma
gGujarāt
gGujarati
gGuṇa
gGuṇa-sthāna
gGuṇa-vrata
gGupti
gGuru
gGuruṇī
hHagiography
hHajj
hHaṃsa
hHaribhadra
hHariṇaigameṣin
hHasta
hHeresy
hHiṃsā
hHindi
hHindu
hHinduism
hHīravijaya
hHoroscope
hHrīṃ
hHumayun
hHymn
iIconoclasm
iIconography
iIdol
iIndian Independence
iIndology
iIndra
iIndrabhūti Gautama
iIndriya
iInitiation
iIntercession
iInvocation
iIQ
iIslam
iIslamicate
iIṣṭadevatā
iĪśvara
jJagat
jJahangir
jJain
jJaina Devanāgarī
jJaina Śaurasenī
jJaina-dharma
jJainaśāsana
jJainness
jJaisalmer
jJamāli
jJambū-dvīpa
jJames Burgess
jJanma
jJanma-kalyāṇa
jJarā
jJāti
jJina
jJina-āgama
jJina-bhavana
jJina-bimba
jJina-mātā
jJinacandra-sūri
jJinadatta
jJinaprabha
jJīva
jJñāna
jJñāna-āvaraṇīya-karma
jJñāna-āvarṇiya
jJñānsundar
jJyotiṣka
kKāla
kKālakācārya-kathā
kKālidāsa
kKalpa-sūtra
kKalpa-vṛkṣa
kKalyāṇaka
kKalyanvijay
kKamaṇḍalu
kKamaṭha
kKarma
kKarma-bhūmi
kKarma-grantha
kKarma-prakṛti
kKarma-vāda
kKarmon
kKarnataka
kKaṣāya
kKathā
kKāvya
kKāya
kKāyotsarga
kKeśa-loca
kKetu
kKevala-jñāna
kKevalin
kKhalji
kKharatara-gaccha
kKnowledge
kKriyā
kKriyā-vāda
kKṛṣṇa
kKṣamā-śramaṇa
kKṣapakaśreṇi
kKṣatriya
kKṣullaka
kKulakara
kKundakunda
kKunthu
lLabdhi
lLaity
lLakh
lLāñchana
lLands of Action
lLaukāntika
lLavaṇa-samudra
lLeśyā
lLiṅga
lLinguistics
lLoka
lLoka-ākāśa
lLoka-puruṣa
lLoka-vāda
lLotus
lLotus lake
mMadhya-loka
mMahā-videha
mMahā-vrata
mMahābhārata
mMahāmastakābhiṣeka
mMāhārāṣṭra
mMāhārāṣṭrī Prākrit
mMahattarā Yākinī
mMahāvīr Jayantī
mMahāvīra
mMakāra
mMakkhali Gośāla
mMalli
mMāna-stambha
mManaḥ-paryāya-jñāna
mMaṇḍala
mMaṇḍapa
mMandit
mMaṅgala
mMantra
mMantras
mManuṣya-loka
mMarāṭhī
mMārgaṇā
mMartyr
mMarudevī
mMaṭha
mMati-jñāna
mMauryaputra
mMecca
mMendicant lineage
mMetarya
mMiracle
mMithyādṛṣṭi
mMohandas Gandhi
mMohanīya-karma
mMokṣa
mMonastic order
mMonasticism
mMonk
mMonotheism
mMosque
mMount Meru
mMount Sammeta
mMṛgāvatī
mMughal
mMuhammad
mMuhammad bin Tughlaq
mMuhpattī
mMūla-sūtra
mMūlaguṇa
mMumbaī
mMuni
mMunisuvrata
mMurad Bakhsh
mMūrti-pūjaka
mMuslim
mMysticism
nNābhi
nNāga-kal
nNāgapurīya Tapā-gaccha
nNāgarī
nNāma-karma
nNamaskāra-mantra
nNami
nNandīśvara-dvīpa
nNandivardhana
nNandyāvarta
nNāraka
nNāraki
nNasalisation
nNātha
nNavrātrī
nNaya-vāda
nNemi
nNidāna
nniggaṃthāṇa vā 2
nniggaṃtho vā 2
nNigoda
nNihnava
nNikṣepa
nNirgrantha
nNirjarā
nNirvāṇa
nNiryukti
nNiṣidhi
nNitya
nNiyati
nNo-kaṣāya
nNudity
nNun
oOcean of milk
oOmniscience
oOrdination
ppa°
pPadmaprabha
pPadmāsana
pPadmāvatī
pPādukā
pPalanquin
pPalette
pPañca-muṣṭi
pPāṇḍava
pPaṇḍit
pPandit Dalsukh D. Malvania
pPandit Sukhlalji
pPāṇipātra
pPāpa
pParamātman
pParameṣṭhin
pPāraṇā
pParigraha
pPariṇāma
pParīṣaha
pParokṣa
pPārśva
pPārśvanātha
pParyāya
pParyuṣaṇ
pPaṭa
pPatan
pPātra
pPenance
pPersian
pPhala
pPhilology
pPicchikā
pPilgrimage
pPīr
pPolymath
pPoṣadha
pPossession
pPothī
pPrabhas
pPradakṣiṇā
pPradeśa
pPrākāra
pPrakīrṇaka-sūtra
pPrākrit
pPramāda
pPramukhā
pPrati-vāsudeva
pPratikramaṇa
pPratimā
pPratiṣṭhā
pPratyākhyāna
pPratyakṣa
pPravacana
pPrāyaścitta
pPrayer
pPre-modern
pPreach
pPredestination
pProtestant
pProvenance
pPudgala
pPūjā
pPujārī
pPukharavara-dvīpa
pPuṇya
pPūrva
pPuṣkara-dvīpa
pPuṣpadanta
pPyre
qQur'an
rRāga
rRāhu
rRainy season
rRajasthan
rRajasthani
rRājimatī
rRajoharaṇa
rRajput
rRāma
rRāmāyaṇa
rRangoli
rRās-garbā
rRasa
rRathanemi
rRatna-traya
rRātri-bhojana
rRaudra-dhyāna
rRecto
rRelic
rRenunciation
rRetroflex
rRevatī
%Ṛg-veda
rRite
rRosary
%Ṛṣabha
%Ṛṣabhanātha
rRupee
sSaciyā Mātā
sSādhu
sSādhvī
sSāgāra
sSaint
sŚaivaism
sŚaka-saṃvat
sSallekhanā
sŚalya
sSamacatuṣṭha
sSamādhimaraṇa
sSamaṇi
sSāmarambha
sSamavasaraṇa
sSāmāyika
sSaṃbhava
sSamiti
sSaṃjñā
sSaṃkalpaja
sSaṃsāra
sSamudghāta
sSaṃvara
sSaṃvega
sSamyak-cāritra
sSamyak-darśana
sSamyak-jñāna
sSamyaktva
sSaṃyama
sSanctuary
sSandalwood
sSaṇgha
sSanskrit
sSant
sŚānti
sSapta-bhaṅgi-naya
sSārambha
sSarasvatī
sSarvajña
sSāsan-devi
sŚāsana-devatā
sŚāstra
%Ṣaṭ-jīvanikāya
sSatī
sSatīmātā
sSatya
sSchism
sScribe
sScripture
sSect
sSecularism
sŚenāī
sSermon
sŚeṣavatī
sSevā
sSeven fields of donation
sShah Jahan
sShantidas Jhaveri
sShrine
sSiddha
sSiddha-śilā
sSiddhacakra or Navadevatā
sSiddhānta
sSiddhārtha
sSiddhi
sSikh
sSikhism
sŚikṣā-vrata
sŚīla
sSin
sSindh
sŚītala
sŚiva
sSkandha
sSomanatha
sŚraddhā
sŚramaṇa
sŚrāvaka
sŚrāvakācāra
sŚrāvikā
sŚreyāṃsa
sŚrī
sŚrīvatsa
sŚruta-jñāna
sŚruta-pañcamī
sSthānaka-vāsin
sSthāpanācārya
sSthāvara
sSthavira
sSthiti
sStrīmukti
sStūpa
sSubcontinent
sSudarshana
sŚuddhi
sSudharma
sŚūdra
sSufism
sSukha
sŚukla-dhyāna
sSulasā
sSultan
sSumati
sSundarśrī
sSupārśva
sSūri
sSuṣamā
sSuṣamā-duṣamā
sSuṣamā-suṣamā
sSūtra
sSuyam me ausam! Tenam bhagavaya evamakkhayam
sSvādhyāya
sSvāhā
sSvastika
sŚvetāmbara
sŚvetāmbara Terāpanthin
sŚvetāmbaras
sSwan
sSyād-vāda
tTabla
tTantra
tTapā-gaccha
tTapas
tTāraṇ Svāmī Panth
tTattva
tTattvārtha-sūtra
tTemple
tTemple-city
tThe Enlightenment
tTheology
tThree worlds
%Ṭīkā
tTilaka
tTīrtha
tTīrthaṃkaranāma-karman
tTīrthankara
tTransliteration
tTrasa
tTrasa-nāḍī
tTriśalā
tTriṣaṣṭi-śalākā-puruṣa-caritra
tTti bemi
tTughlaq
tTunk
uUdumbara
uUniversal History
uUpādhyāya
uUpāṅga
uUpaniṣads
uUpāsaka
uUpasarga
uUpāśraya
uŪrdhva-loka
uUtsarpiṇī
uUttarādhyayana-sūtra
vVāhana
vVaimānika
vVairāgya
vVaiṣṇava
vVaiśramaṇa
vVaiśya
vValabhī
vVanaspatikāya
vVandana
vVaṇik
vVarṇa
vVāsudeva
vVāsupūjya
vVayubhūti
vVeda
vVedanīya-karma
vVegetarianism
vVehicle
vVernacular
vVerso
vVidyā
vVidyā-devī
vVihāra
vVijñapti-patra
vVikrama-saṃvat
vVikṛti
vVimala
vVinaya
vVipāka
vVirji Vora
vVirodhaja
vVīrya
vVisarga
vViṣṇu
vVītarāga
vVizier
vVotive
vVow
vVrata
vVS
vVyakta
vVyantara
vVyasana
yYakṣa
yYakṣī
yYantra
yYaśoda
yYaśovijaya
yYati
yYātrā
yYoga
yYoginī
yYojana