Banārasīdās (1586–1643) was a merchant, poet and leader of the anti-ritualistic Adhyātma lay movement. His life is well known because he was the first Indian author to write an autobiography. Controversial but resolutely Jain, Banārasīdās sp­ent his life questioning his family religion, trying to attain the Supreme Self while continuing in the family business. An inspiration to lay men, Banārasīdās is also cited as an inspiration by the founders of the Digambara Terāpantha sect.
Life
In 1641, at the age of 55, Banārasīdās decided to write down what he remembered of his life. He entitled his autobiography Half A Story because the Jain tradition promises human beings a lifetime of 110 years. Most of the information about his life comes from this source.
Childhood and youth
Banārasīdās was born into a Śrīmāl Śvetāmbara Jain family in Jaunpur. His father came from the village of Rohtak, in the north-west of Delhi. As a child he had had to run away with his mother because all their belongings had been confiscated by a Mughal soldier in the army of Emperor Humāyūn. They had found refuge in Jaunpur, a city built on the banks of the River Gomati, near Vārāṇasī. The city had been very important in the 15th century as an influential centre of military and cultural activities. By the 17th century, however, its brightness had declined, mostly because the Mughal Empire had chosen the city of Agra as its capital.
Banārasīdās's father was named Kharagasen. He was a serious man, a dedicated Jain lay man and a meticulous jeweller.
Banārasīdās had received a good education in mathematics and Jain scriptures under the guidance of a Śvetāmbara monk. But he was a turbulent young man, devoted to his two passions of reading and womanising. He also stole from his own father to offer gifts to his lovers, and contracted syphilis from his debauched lifestyle.
Business experiences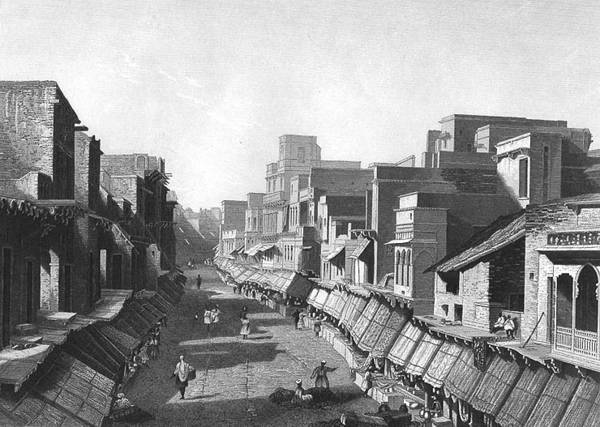 Main street of Agra, around 1860
Image by unknown © public domain
After he had reasserted Jain values in his heart, Banārasīdās saw his father. Kharagasen gathered together all the precious stones, condiments and clothes he owned and told his son to sell the merchandise in Agra. In his autobiography Banārasīdās relates that: "Now, he said, the burden is on your shoulders. You have to feed all the family".
So Banārasīdās travelled to the capital city. He recounts that his journey was full of misadventures. These included heavy rains making the roads impassable, escaping from thieves by disguising himself as a brahmin and finding that caravanserais were full, obliging him to spend the night outside.
At the market-place in Agra Banārasīdās did not seem to be a natural businessman, for his first venture made him bankrupt. Kharagasen was in despair when he saw his son come back as a beggar.
After that, Banārasīdās established some business partnerships, as was generally the case at that time. The first one was with Dharmadās, the 'bad son' of an Osvāl family from Delhi. He was more interested in smoking opium than selling goods in the markets. Banārasīdās then built a more fruitful partnership with Narottamadās, who became his best friend. They worked a lot together, finally earning good money. Even so, Banārasīdās had to work with an investor, Sabal Siṅgh, who neglected business, preferring to listen to his private musicians.
Questioning Jainism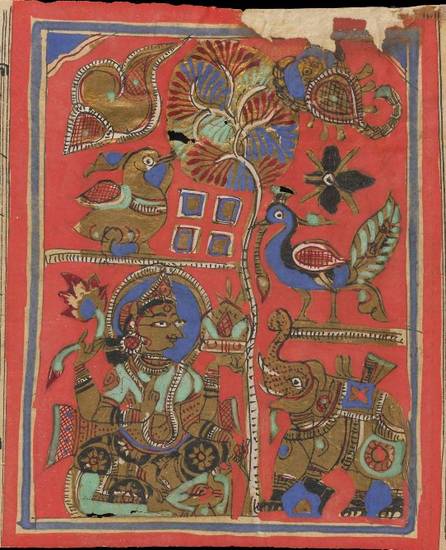 Examples of types of living beings
Image by British Library © CC0 1.0 (Creative Commons Public Domain)
Based on Digambara philosophy, the Adhyātma lay movement flourished in several cities of northern India during Banārasīdās's lifetime. Though he was born into a Śvetāmbara family, Banārasīdās was seen as the leader of the movement by the end of his life. His association with this movement followed his exploration of various religions and viewpoints.
Throughout his life, Banārasīdās had questioned his family religion and looked for spiritual fulfilment from different sources. After studying the major Jain scriptures, he became a devotee of ritual. Tricked by a false ascetic, he recited a mantra that would allow him to earn money. Misled by a false yogi, he became a devotee of the Hindu god Śiva and worshipped a white conch for a year. After this, his first contact with Adhyātma was decisive for his career.
The Adhyātma movement was founded in the middle of the 16th century in the cities of north India, mainly Agra, Delhi, Jaipur and Sanganer. During meetings, Jain lay men discussed philosophical tenets such as:
Together, they read important philosophical and doctrinal Jain works such as Kundakunda's Samayasāra and its commentaries. This Prakrit work of the 2nd to 3rd century caused a deep change in Banārasīdās's thought and behaviour. In this work Kundakunda makes a distinction between:
the conventional point of view – vyavahāra-naya – which invites devotees to perform religious rituals
the absolute point of view – niścaya-naya – which goes beyond the practical life and invites truth-seekers to focus on the Supreme Self instead of following meaningless rules.
When Banārasīdās read this work and its commentaries, he became an ardent anti-ritual lay man, disregarding ritual-based practice of worship.
Banārasīdās finally found his own path after reading Nemicandra's Gommaṭasāra. This 10th-century work expounds the 'Scale of Qualities' from delusion to omniscience, dividing spiritual progress into 14 stages – guṇasthāna. Banārasīdās understood that each human being should act in accordance with the degree of spiritual elevation he has reached. This theory allowed him to seek the Supreme Self while continuing his commercial activities.
Works
Using the Braj Bhāṣā language, Banārasīdās wrote extensively during his search for spiritual truth. The Jains have never considered his writings authoritative, because of his hectic life and lay status, but his works have inspired many followers. He is considered the inspiration of the Digambara Terāpantha sect. Mostly created by Pandit Ṭoḍarmal in the mid-18th century, this sect claims Banārasīdās as its guide.
In addition to the Ardha-kathānaka – Half A Story – the best known works by Banārasīdās are the Banārasīvilāsa and Samayasāra Nāṭaka.
Navarasa
The first text Banārasīdās wrote in his youth was a treatise on the 'Nine Sentiments' – nava-rasa. These rasas are described by Indian poetics as:
love – śṛṅgāra
heroism – vīra
disgust – bībhatsa
anger – raudra
mirth – hāsya
fear – bhayānaka
pity – kāruṇa
wonder – adbhuta
tranquillity – śānta.
After confessing that the text focused on 'love', Banārasīdās considered himself a 'bad poet' and denied his Navarasa by throwing the sheets of his manuscript into the River Gomati.
A picture promoting Jainism shows him sitting in a boat, the papers floating on the water. The caption of the picture is explicit: 'When his religious views had changed [that is, when he became a resolute Jain], the great poet Banārasīdās threw his Navarasa composition in the Gomati River'.
Banārasīvilāsa
Banārasīdās composed many philosophical poems, and rewrote numerous Jain devotional texts. These pieces, numbering approximately 50, were collected after his death by his friend Jagjīvan in an anthology called Banārasīvilāsa. The topics of the poems were probably inspired by discussions during meetings of the Adhyātma groups in Agra. Some pieces may be kinds of notes made after listening to an authoritative person. Usually between 20 and 100 verses long, the poems deal with matters such as:
different kinds of concentration – Dhyānabattīsī
the categories of karma – Karmachattīsī
the attainment of Heaven – Śivapaccīsī.
Samayasāra Nāṭaka
The most significant Banārasīdās work on spiritual matters is probably the Samayasāra Nāṭaka.
One of the turning points in Banārasīdās's life was sparked by a text and its commentary. The crucial moment came when a member of the Adhyātma movement named Arthamal Ḍhor gave him a copy of a Hindi commentary on Kundakunda's Samayasāra. Ḍhor said to him, 'Read this text and you will understand the truth.'
Banārasīdās called this text a nāṭaka – drama. The word 'nāṭaka' was used chiefly for commentaries on the Samayasāra that present a kind of drama with the soul as the main character. This commentary was written by Rājamalla Paṇḍe in the 16th century. Reading it was a life-changing event for Banārasīdās. From this moment, he wanted to attain the Supreme Self but did not really know how to do so. He said he stood like 'a camel fart', which never goes in any direction, a situation that lasted till he read Nemicandra's Gommaṭasāra.
Profoundly inspired, Banārasīdās wrote a Samayasāra Nāṭaka of his own. His commentary on the Samayasāra of Kundakunda is quite a long work, numbering about 750 verses divided into 13 chapters, compared with Kundakunda's 415 verses in 10 chapters. His commentary includes a chapter of 100 verses devoted to enlightening discovery of the 14 guṇasthānas.
Ardha-kathānaka
In 1641, two years before he passed away, Banārasīdās wrote his autobiography, the Ardha-kathānaka – Half A Story. This is the first text of this genre in the history of Indian literature.
In 675 verses, Banārasīdās evokes his lineage, the paternal figure, his childhood, his business partnerships, his relationship with Jainism and the important people he meets on his path. At the end, he wrote that he lived 'pleasantly' in Agra with his third wife after his first two first wives and all his nine children had died. Banārasīdās finished this Half A Story by saying that the best part of his life is yet to come.
Banārasīdās seems to have composed this account principally to explain his unconventional progress in the Jain path to friends and detractors. It could be also a kind of confession – pratikramaṇa – which is one of the most important duties for Jain lay men. Indeed, at the end of the story Banārasīdās lists his main qualities and defects, which is quite unusual in Indian literature. The autobiography genre also implies an unavoidably didactic perspective.